Hi All,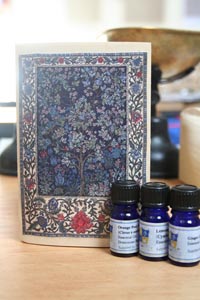 For the students set to embark on the 52 week perfume course it's the start of induction. From now through the 26th of September, when the course opens, the students will be able to access the training course and the new common room.
The formulation kits are looking more exciting than ever, as well as the finest essential oils and absolutes, it is now contained in an attractive wooden box.
The new common room was opened today to act as a universal forum for registered members. It is strictly private and open only to those member who have been assigned a user name and password by the site administrator (myself). If you are new or you've been here forever - come over and say hi!
Please don't hesitate to contact me if you are wishing that you were taking a place in the class that opens on the 26th. We may yet be able to accommodate you.
ruth@naturalperfumeacademy.com
Don't forget to check out the supplies here on the
natural perfumers supply store
. Natural isolate Kits, Evaluation Kits, Formulation Kits, Workbooks and more.
If you want to drop me a line please do so at
ruth@naturalperfumeacademy.com
I think that's all the news for now, although I am sure to think of something. Oh yes I added a new links section to the side menu if you want to take a look. Anything you want to add just email me and I will consider adding it.