Browse the glossary using this index
Special
|
A
|
B
|
C
|
D
|
E
|
F
|
G
|
H
|
I
|
J
|
K
|
L
|
M
|
N
|
O
|
P
|
Q
|
R
|
S
|
T
|
U
|
V
|
W
|
X
|
Y
|
Z
|
ALL
---
Kadamba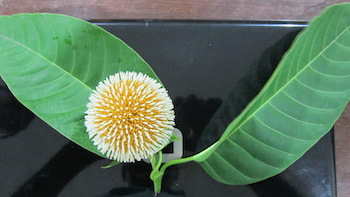 The Kadamba or Anthocephalus Cadamba tree is native to Northern India. An essential oil and a hexane extraction is produced from the flowers but the yeild is very small. The perfume from the flowers is intoxicating at night. 
According to Steffen Arctander "This is one of the rare perfume materials which deserves a permanent and prominent place on the perfumer's shelf." 
He describes it as "woody floral and sweet odor with a short lived top note. The dry out is delightfully sweet floral, reminiscence of champaca and neroli. The tenacity of this fragrance is almost incredible." 
Ref: Steffen Arctander; Perfume and Flavor Materials of Natural Origin
---